HONYPLAS®Customize High Precision Peek Plastic CNC Machining Parts,Plastic Spare Peek Machined Parts pictures & photos,Polyetheretherketone, the English name polyetheretherketone (referred to as PEEK), is a linear aromatic polymer compound containing chain links in the main chain of the molecule. Its constituent unit is oxygen-p-phenylene-oxy-carbonyl-p-phenylene, which is semi-crystalline, thermoplastic.Uses: It is a kind of engineering plastic with excellent comprehensive performance. The film can be cast or oriented. It can be used as wire-covered wire, atomic energy engineering components, H-class or C-class electrical insulation materials, flexible printed circuit boards, heat pump casings or racks. , Oil well connectors, valves, metal heat-resistant or anti-corrosion coatings, monofilaments, bandages, sieves, subways, mines, oil fields, electrical industry, atomic energy engineering, chemical equipment, etc.
Our advantage
● Factory direct sale with negotiable price.
● Better quality compared with similar suppliers.
● With certificate ISO/RoHS.
● Accept Customization.
● hours prefessional service.
● Support payment terms as per your request.
● Bulk stock.
● Quick shipping within 3 days.
HONY Machining Capabilities,Products Materials,Surface Finish :
Machining Capability:
Swiss Turning
CNC Turning & Chucking
CNC Lathing
CNC Milling
Honing
Grinding
Secondary Machining
Brazing
Soldering
Magnafluxing
Bending
Slotting
Knurling
Threading
Crimping
Assembly
Heat Treating
Plating
Zone Annealing
Wire EDM cutting
Products Processing Size:
Maximum Processing Diameter: 150mm
Maximum Processing Length:300mm
Maximum Processing Depth:120mm
Surface roughness: Ra 0.3um
Processing Tolorance:0.007mm
Applied Software:Pro/E,Auto CAD, Solid Works,IGS,UG,CAD/CAM/CAE
Packing material we use(According to customer's request):Eco-friendly PP bag, EPE foam, carton box, wooden box, paper, blister film, bubble film,plastic web,Anti-Corrosion Bags,etc
Trial Sample Delivery Time:7-14days
Mass Batch Production Delivery Time: 30days, negotiable according to the order quantity
We do the parts according to customer's drawing in 2D (PDF format) and 3D or CAD stating order quantity, material request, material hardness request,surface roughness request, surface finish request. ODM & OEM parts are welcome!
Materials We Use:
Stainless Steel:
AISI 303, 304, 316, 316L, 430F, 440C, 630
Aluminum:
ASTM 380, 2017, 2011, 2024, 5051, 5052, 5056, 6013, 6061, 6063, 6082, 7075, ADC10 (AISi8Cu3) , Extruded/Extrusion Aluminum is available
Carbon and Alloy Steel:
AISI 1008, 1010, 1015, 1025, 1030, 1045, 1060, 12L14, 1144, 1215, 4140, 4340, SCM440
Brass:
CA260, C36000, C3601, C3602, C3603, C3604, C37700, C3771,Hpb59-1,H62,C27200(CuZn37),Etc.
Plastic:
POM, NYLON, NORYL, Acetal, Delrin, Polycarbonate, PEEK, Acrylic, ABS,Bakelite
Special Material:
Titanium 6AL-4V, Carpenter Invar 36, Remko B, Nickel Silver C79200, ASM 4640 (Aluminum Bronze), Hastelloy C276 Nickel Alloy
Finish We Do:
* Nickel Plating / Electroless Nickel Plated / Zinc Plated / Hard Chrome Plating
* Anodizing / Hard Anodized
* Black Oxide
* Passivation
* Sand Blasting
* Laser Marking
* Powder Coating
* Chem Film
* Vacuum Deposited Aluminum (Mirror Finish) / #4 Brushed Finish / #8 Mirror Finish
Material
Material name

Compound %

Main Properties

Color

PTFE

-

Very low coefficient of frication and excellent chemical resistance,Food grade

White

Glass Filled PTFE

Up to 40%

Improved ware resistance , compression strenght,creep resistance,chemical resistance.Good performance in oxidising environment,good creep resistance

White cream

Carbon Filled PTFE

Up to 35%

Improvement electrical and termal conductivity,resistance to load,low coefficient of friction in dry,water,steam applications,chemical resistance.Superior ware resistance increase and low friction properties

Black

Graphit Filled PTFE

Up to 25%

Improve wear resistance,decrease friction and increase sliding prperties against soft metals-chemical inertness.Improve the temperature resistance in some way.

Black

Bronze Filled PTFE

Up to 60%

Improve compression strength,wear resistance,high thermal conductivity,resistance to abrasion.Reduced chemical resistance.

Dark brown

Molybdenum disulphide(MoS2)

Up to 5%

Increased PTFE properties of hardness and wear resistance .Increased sliding properties and decrease friction.

Blue azure

PEEK Filled PTFE

Up to 20%

Increased Thermal Resistance,sliding properties , surface hardness,Superior properties on dynamic applications.

Light Brown

PEEK

-

Excellent mechanical properties including strength.rigidity , impact resistance,low wear rate and low coefficient of friction , retained over a wide range of service temperature

Light Brown

PEEK compound

-

Improves te

chnical and chemical properties like deformation under load,wear resistance,thermal expansion and electrical conductivity

-

PVDF

-

Resistance to UV radiation and offers high mechanical strength and abrasion resistance

Beige

PCTFE

-

Better mechanical properties than other fluoropolymers , low permeability

Translucent

PFA

-

Better mechanical properties than other fluoropolymers , low permeability

Natural
Main product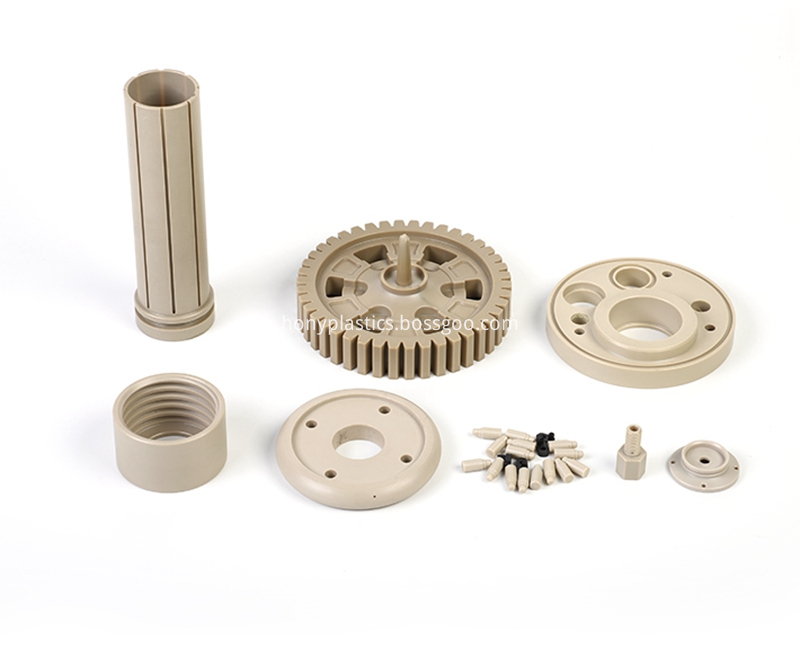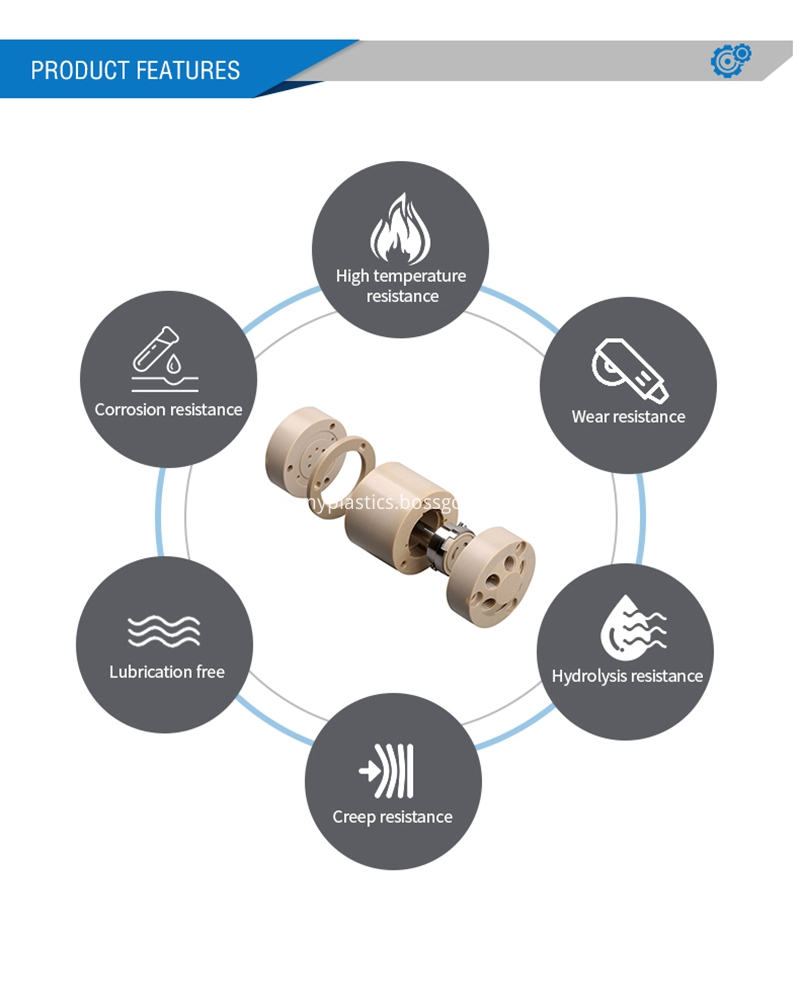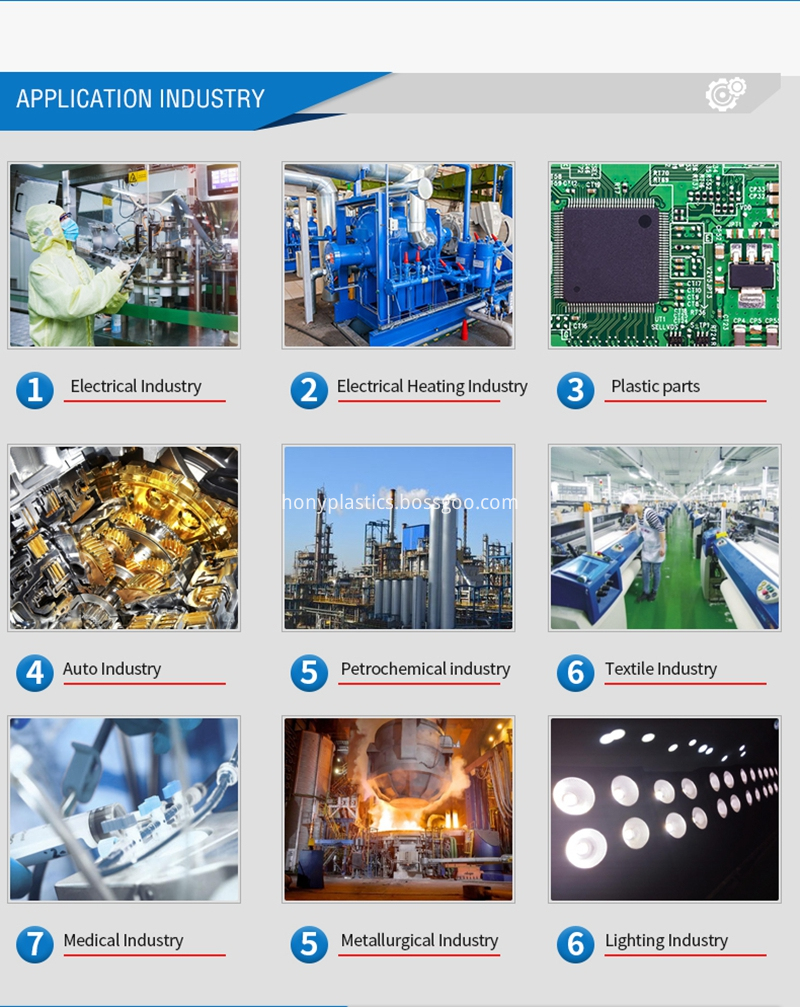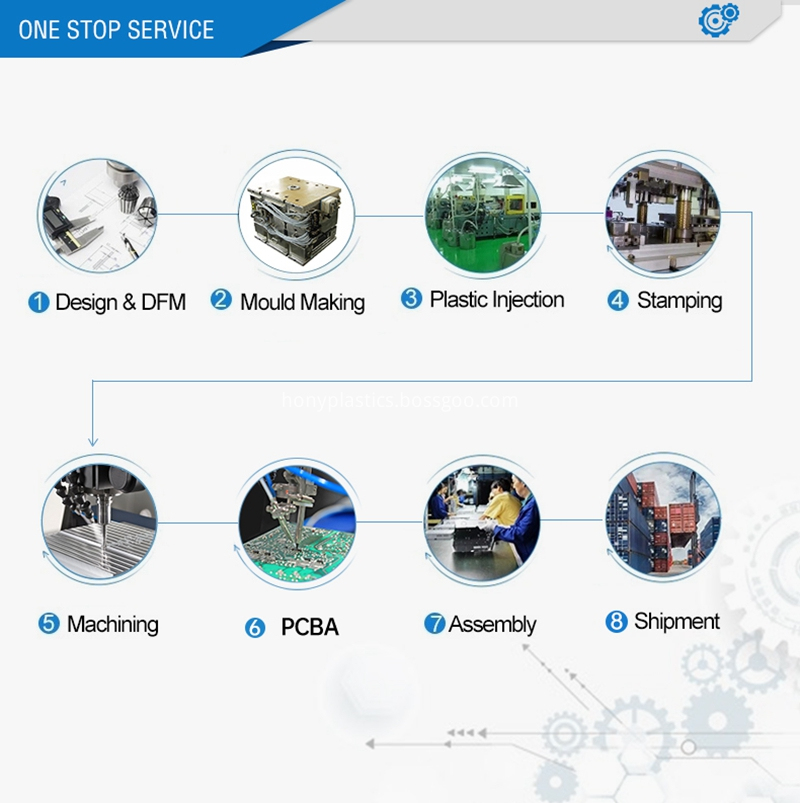 FAQ
Q1: Are you trading company or manufacturer?
A: Yes, We are manufacturer for engineer plastic products.
Q2:What's your available tolerance?
A: Tolerance is based on the design and material, we can reach +/- 0.01mm for certain parts.
Q3: I have a sample but don't have drawing, what can I do?
A: Please send us some photos of the samples, we will evaluate. If we can produce it, we will ask samples from you and we will make drawing according to your samples.
Q4: what is the MOQ is for this product in your company?
A: MOQ is 1 pc.
Q5: What guarantee do you offer?
A: Life-long technology support, and return policy due to the quality problem.
Q6: I have a good idea but don''t know how to do with it, could you help me?
A:Yes, please tell us your ideal and our engineer will make a sketch for you to check. Also we can make a prototype for you by 3d printing, CNC and laser cutting to see if there is
any detail need to be improved.
Q7: When can I get the sample after payment for mold?
A:Usually It will take around 3-4 weeks for mold making. And we will test the mold to make 10-20 samples for you to check.
Q8: Can you do assembly and customized package?
A:Yes, we have over 12 assembly lines which can assemble all kinds of plastic, metal and electronic parts for you. For the finished products,we can customized the retail package and you can sell it directly after receiving them.
Q9: Do you provide samples? Is it free or extra?
A: Yes we offer free sample but do not afford the shipping cost.
Q10:Can you make machining parts based on our samples?
A:Yes, we can make measurement based on your samples to make drawings for machining parts making.
Q11: Is it possible to know how are my products going on without visiting your company?
A: We will offer a detailed production schedule and send weekly reports with digital pictures and videos which show the machining progress.
Q12: Can you produce according to the samples?
A:Yes, we can produce by your samples or 2D/3D technical drawings.